Activities in our area
The town at the southernmost tip of Africa, with the Cape Agulhas Precinct and Agulhas National Park on it's doorstep.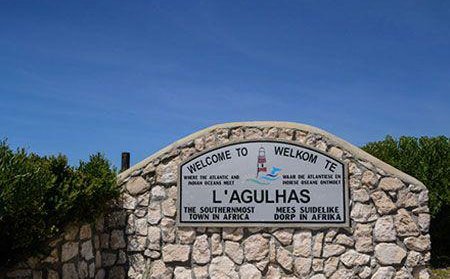 L'Agulhas
Within the Cape Agulhas precinct you will find the 2nd oldest working lighthouse in the country and the southernmost tip of Africa where the Indian and Atlantic oceans meet. The working lighthouse houses a museum. Climb the 71 steps to the top of the lighthouse for a spectacular view of the southernmost tip and the town and visit the ground sculpture of Africa and the stone cairn at the southernmost tip of Africa.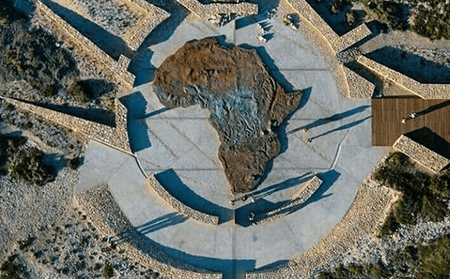 Agulhas Icon Sculpture ( at the southernmost tip of Africa)
Visit the latest addition to the world of art at the southern tip of Africa. The Agulhas Icon Sculpture is a unique work of art by prolific South African artist, Strijdom van der Merwe. It invites visitors to linger and admire not only the piece itself, but also the beautiful natural surroundings.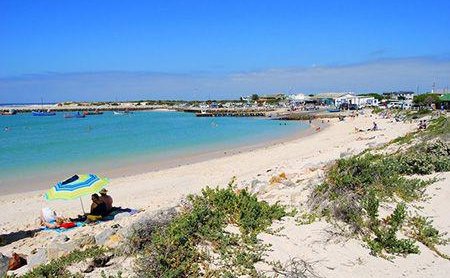 Struisbaai – 7km from Agulhas
Here you will find the longest uninterrupted white sand beach in the southern hemisphere and the quaint fishing harbour with it's colourful fishing boats and resident stingrays. (Parrie the Stingray has a Facebook page)
De Mond Nature Reserve – 40km from L'Agulhas
Situated half way between Struisbaai and Arniston. Take a picnic basket and explore the estuary.  Cross the bridge and walk down to the sea at the mouth of the Heuningness river, where you will find the longest uninterrupted white sand beach in the southern hemisphere.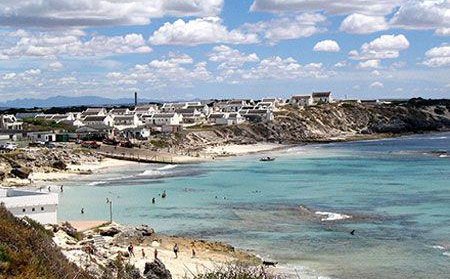 Arniston /Waenhuiskrans - 60km from L'Agulhas
Arniston was named after the HMS Arniston that was wrecked there in 1815. The massive limestone cave (accessible at low tide) is so large that a wagon and 6 oxen can turn in it, hence the 2nd name of the town "Waenhuiskrans".
The 200 year old Kassiesbaai village on the cliffs of Arniston, is a national heritage site in its entirety, and is well worth a visit to experience the customs of the locals, who live in these white washed thatched cottages.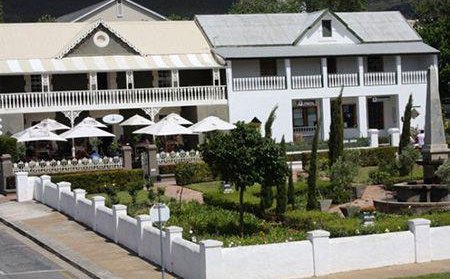 Bredasdorp 45km from L'Agulhas
Visit the shipwreck museum and Kapula, the candle making factory.
Have lunch at Bredasdorp Square or  Table Café at the Lifestyle Centre.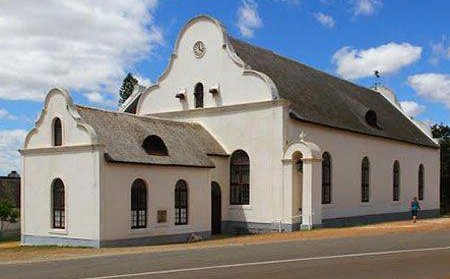 Elim 50km from L'Agulhas
The entire Moravian village of Elim is a National Heritage Site and has the rarest fynbos in the world. It is the oldest village in the Strandveld and has the oldest church. All the inhabitants of the village are members of the church, which houses the oldest working clock in the country. Elim has the only slave monument in the country and the largest wooden waterwheel is housed at the Old Mill.
En-route to Elim from Agulhas
Agulhas wine route www.strandveldwines.co.za
Nuwejaars Wetlands – wildlife guided tours www.nuwejaars.com
Overberg Renosterveld Conservation www.overbergrenosterveld.org.za